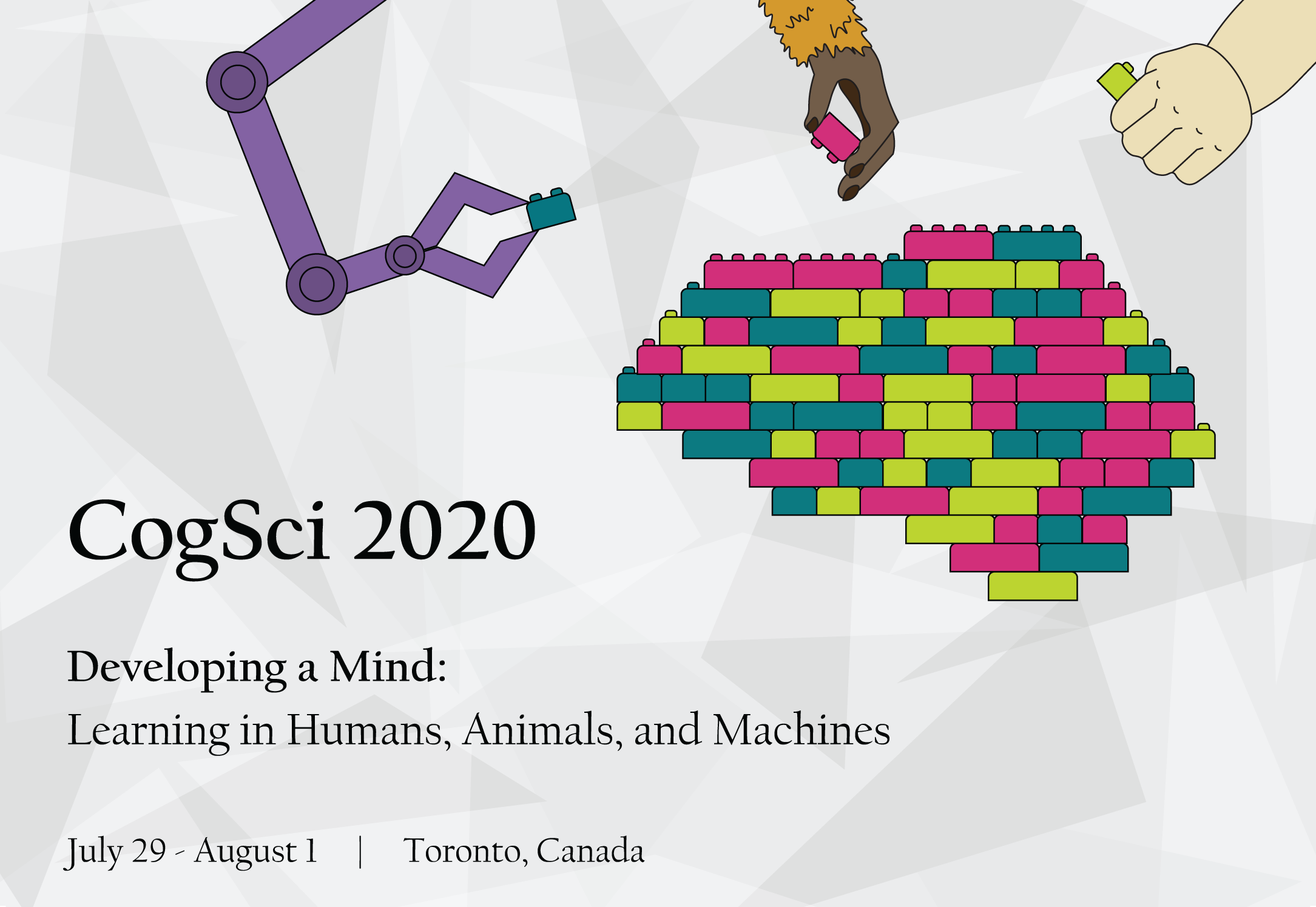 Important Dates
| | |
| --- | --- |
| Call for Submissions | November 29, 2019 |
| Hotel Reservations Open | January 13, 2020 |
| Submissions Close | February 3, 2020 |
| Meta-reviewers to Invite All Reviewers  | February 3-10, 2020 |
| Reviews Due | March 9, 2020 |
| Meta-reviews Due | March 23, 2020 |
| Notifications of Decision Sent | April 10, 2020 |
| Registration Open | April 10, 2020 |
| Accepted Submissions Due in Final Form | May 8, 2020 |
| Presenting Author Registration Deadline | May 18, 2020 |
| Early Registration Deadline | May 18, 2020 |
| Regular Registration Deadline | June 30, 2020 |
| Conference | July 29 – August 1, 2020 |
The 42nd Annual Meeting of the Cognitive Science Society will be held in Toronto, Canada at the Metro Toronto Convention Centre (South Building) on Wednesday July 29th – Saturday August 1st, 2020 (Wednesday, July 29th is the Tutorials and Workshops day).
This year's conference highlights research on the theme, Developing a Mind: Learning in Humans, Animals, and Machines, in addition to the full breadth and diversity of research topics offered by the society's membership.
Humans and many other animals begin life in possession of very different cognitive abilities, neuroanatomical structures, and prior knowledge as compared to their adult states. Increasingly, computational models are also being implemented in ways that are sensitive to analogous qualitative and quantitative changes in an artificial intelligence's learning, representation, and processing capacities. Understanding how cognition develops in humans, animals, and artificial intelligence is therefore central to any research conducted within the cognitive sciences.
By emphasizing the role of development within the cognitive sciences,
this year's conference aims to foster the creation of theories that
reflect not only the adult state, as is often the focus, but that also
reflect the developmental trajectories and the changes in representation
and processing abilities that lead to these adult states. It also aims
to stress the important and often under-emphasized role that comparative cognition and the study of cross-species differences can play within the cognitive sciences, both in revealing domain general and
species-specific abilities. Empirical work on these fronts also holds
promise to inform and benefit from insights from AI models that simulate developing minds. Collectively, focusing on development at this year's conference can help stimulate a paradigm shift in how development is viewed within the cognitive sciences. Rather than being a largely separate theme in its own right, this edition of the annual meeting will help reveal why development should be a central principle that is part of and positively contributes to any comprehensive theory.
We encourage researchers from around the world to submit their best work in Cognitive Science to CogSci 2020, and to join us for discussions of the latest theories and results from the world's best cognitive science researchers.
Co-Chairs: Stephanie Denison | Michael Mack | Yang Xu | Blair C. Armstrong
Invited Speakers
Cecilia Heyes
Geoffrey Hinton
Janet Werker
Invited Panels
Deep Integration of Development and Cognitive Science
Social, Cultural, and Linguistic Constraints on Development
Statistical Learning and Development