CogSci 2020 Virtual Meeting
We are pleased to announce this year's 42nd Annual Virtual Meeting of the Cognitive Science Society.
The CogSci 2020 Virtual Meeting will adhere to the traditional format, and will feature all planned keynote talks and invited panels (see below for details). In addition, we are delighted to feature the inaugural Elman Symposium to honor this year's Elman Prize winner Jenny Saffran, the Glushko Symposium featuring this year's dissertation winners, as well as the Rumelhart keynote by Stanislas Dehaene.
Most importantly, we will be hosting some of the most cutting-edge research in the cognitive sciences contributed by our members. The Virtual Meeting will feature Regular talks (15 minute talk) as well as Posters (5 minute talk accompanying poster). Talks and posters will be streamed in real-time with live Q&A where possible. You will also be able to watch talks on demand and continue to ask questions and receive replies later to accommodate different time zones.
The real-time streaming of CogSci 2020 will be:
9:00am-4:00pm EDT (Toronto time)
6:00am-1:00pm PDT
2:00pm-9:00pm BST
3:00pm-10:00pm CET
We have attempted to be maximally inclusive in our selection of times. While impossible to accommodate everyone, based on previous attendance figures, we have maximised for North American/European time zones.
To attend the CogSci 2020 Virtual Meeting you must register. We offer reduced registration rates to Cognitive Science Society members, and this year we are offering free membership. A Pandemic Financial Hardship Registration Fee Waiver is also available for CSS members in need, please click here to fill in the application.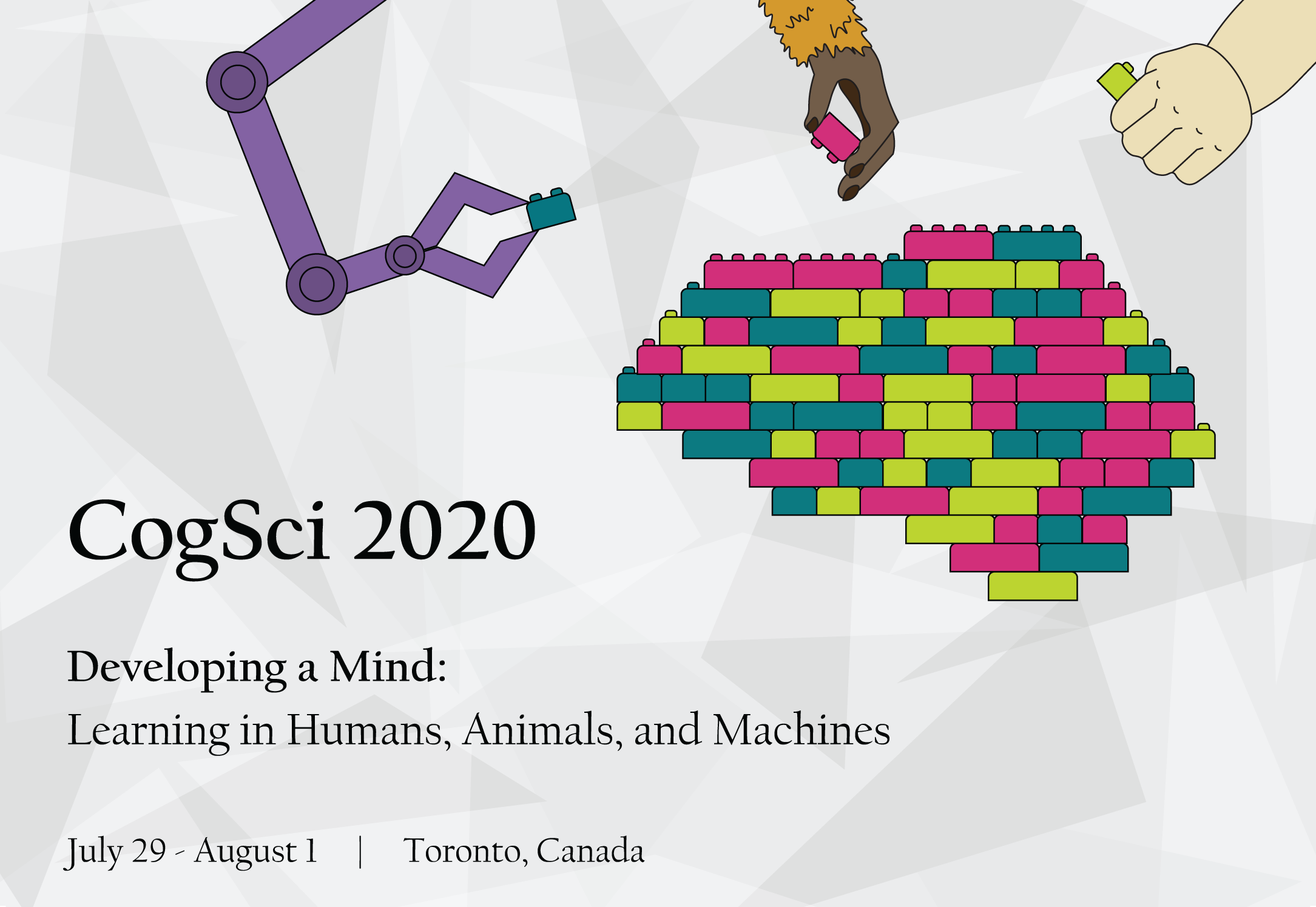 Thank you to our 2020 Exhibitors!


Important Dates
| | |
| --- | --- |
| Call for Submissions | November 29, 2019 |
| Hotel Reservations Open | January 13, 2020 |
| Submissions Close | February 3, 2020 |
| Meta-reviewers to Invite All Reviewers | February 3-10, 2020 |
| Reviews Due | March 9, 2020 |
| Meta-reviews Due | March 23, 2020 |
| Notifications of Decision Sent | May 1, 2020 |
| Accepted Submissions Due in Final Form | May 29, 2020 |
| Registration Open | June 5, 2020 |
| Submission of pre-recorded talks | July 20, 2020 |
| Register by | July 26, 2020 |
| Conference | July 29 – August 1, 2020 |
Check out our, what to expect, document to get an overview of what attending CogSci 2020 will be like
This year's conference highlights research on the theme, Developing a Mind: Learning in Humans, Animals, and Machines, in addition to the full breadth and diversity of research topics offered by the society's membership.
Co-Chairs: Stephanie Denison | Michael Mack | Yang Xu | Blair C. Armstrong
Key Links
Call for Affinity Groups
All are welcome in the Cognitive Science Society. The Society invites the submission of proposals from established or new affinity groups of cognitive scientists formed around shared identities, interests, and goals, to help advance diversity and inclusivity in cognitive science. Proposals may be for an organized program of content and/or for a virtual space for free-form meeting and discussion. The Society will recognize each affinity group whose proposal is accepted, provide a time on the conference program, and work with the group to facilitate outreach.
Proposals should provide a group name, a list of individuals involved in the proposal, a designated point-of-contact email address, a draft of a description of the group's intended composition and any planned activities, and any preferences regarding dates and times on the conference program, which we will do our best to accommodate. Proposals should be no longer than one page. Proposals are due by July 20, 2020.
The Cognitive Science Society intends to function as a pro-actively anti-racist scholarly society and reserves the right to reject proposals inconsistent with these principles. All conference participants are expected to adhere to the Society's Code of Conduct.
IMPLEMENTATION
A team appointed from members of the Diversity Committee will review each application received, communicate with each applicant, determine which proposals to accept and reject, and work with the conference organizers to determine a scheduled time for each affinity group on the conference program. There may be cases where multiple proposals come in by different groups that might be best off knowing about each other and potentially merging. In those cases, the team will seek consent from each group to put them in touch with the other(s) and put all consenting groups in touch with each other. To date, affinity groups to be present at the Virtual CogSci 2020 meeting include SPARK and Queer in AI.
Humans and many other animals begin life in possession of very different cognitive abilities, neuroanatomical structures, and prior knowledge as compared to their adult states. Increasingly, computational models are also being implemented in ways that are sensitive to analogous qualitative and quantitative changes in an artificial intelligence's learning, representation, and processing capacities. Understanding how cognition develops in humans, animals, and artificial intelligence is therefore central to any research conducted within the cognitive sciences.
By emphasizing the role of development within the cognitive sciences, this year's conference aims to foster the creation of theories that reflect not only the adult state, as is often the focus, but that also reflect the developmental trajectories and the changes in representation and processing abilities that lead to these adult states. It also aims to stress the important and often under-emphasized role that comparative cognition and the study of cross-species differences can play within the cognitive sciences, both in revealing domain general and species-specific abilities. Empirical work on these fronts also holds promise to inform and benefit from insights from AI models that simulate developing minds. Collectively, focusing on development at this year's conference can help stimulate a paradigm shift in how development is viewed within the cognitive sciences. Rather than being a largely separate theme in its own right, this edition of the annual meeting will help reveal why development should be a central principle that is part of and positively contributes to any comprehensive theory.
We encourage researchers from around the world to submit their best work in Cognitive Science to CogSci 2020, and to join us for discussions of the latest theories and results from the world's best cognitive science researchers.

The Cognitive Science Society is pleased to announce the establishment of the CogSci Grove which aims to mobilise cognitive scientists to offset carbon emissions associated with their professional activities.