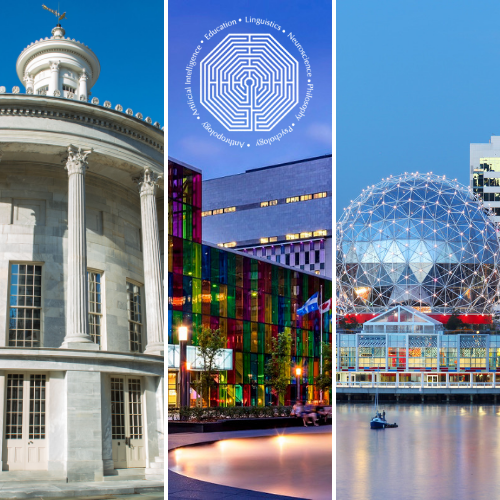 Information for Future CogSci Annual Meeting Co-Chairs
The Annual Meeting of the Cognitive Science Society brings together researchers from around the world whose work seeks to understand the nature of the human mind. The conference hosts the latest theories and data from the world's best cognitive science researchers and represents scholarship from various disciplines, including Artificial Intelligence, Linguistics, Anthropology, Psychology, Neuroscience, Philosophy, and Education. Each year, in addition to regular papers, the organizers may choose to highlight some aspect of cognitive science through invited talks and symposia.
The Cognitive Science Governing Board actively encourages expression of interest from groups of scholars that wish to co-chair upcoming CSS meetings. Conference Co-Chairs are responsible for selecting the conference theme and invited speakers, as well as the papers and posters that most conference attendees view as the substance of the Annual Meeting. Leading the organization of a premier interdisciplinary conference such as the CSS Meeting offers an invaluable service to the field of cognitive science. Conference Co-Chairs have the opportunity to showcase emerging intellectual trends, highlight the societal impact and applications of cognitive science research and shape future directions in the field. Co-chairs also bring visibility to their team, programs and institutions.
Over the years, CSS has developed several resources to help Co-Chairs of the Annual Meeting. All submissions and communication with Program Committee members, reviewers and authors rely on Precision Conference Solutions (PCS), a system that allows settings to carry over from past Meetings but also supports customization from each new team of Co-Chairs. Documentation from past conferences offers guidance about the organizational timetable and the various duties of Program Co-Chairs. Past Co-Chairs, members of the CSS Governing Board and other officers can also provide input and assistance with various aspects of the organization.
A team of individuals who want to co-chair a CSS Conference needs to submit a bid to the CSS Governing Board. Bids are typically submitted 2-3 years before a conference. The bid is a short document (up to 4 pages long) that contains a vision for the conference, including a central theme or emphasis (if desired), the names of potential plenary speakers, as well as 2-3 invited thematic symposia (with 3-4 suggested speakers for each). The bid should also include information about the co-chairs' background and preparation to lead the organization of the conference, a preliminary division of roles among the co-chairs and any plans to secure sponsorships and other external funding for the conference (e.g., from the organizers' institutions, or other academic, government or industry partners).
Major responsibilities for the Conference Program Co-Chairs (and a broad timeline) once a bid has been accepted can be found here. For questions about how to prepare a bid, samples of past successful bids and other organizational issues, please email: Anna Papafragou