CogSci 2022 Hybrid Program 
What's different about the conference this year?
The world is changing, and the past few years have made it clear that how we do conferences needs to change too. Our values as a society have led us to embrace the idea of a fully hybrid conference. Because there are numerous scientific and interpersonal benefits from an annual in-person meeting, we will not go fully virtual. However, we also recognise that it is not possible for everyone in the field to travel across international borders to attend, nor is it environmentally friendly. In addition, because online conferences impose fewer financial and logistic hurdles than in-person ones, they are far more equitable. Our conference theme is cognitive diversity, and this extends to valuing the diversity of our members. Offering an online option ensures that members with fewer resources, more caring responsibilities, greater geographical distance to overcome, more difficulty meeting visa or vaccination requirements, or other constraints can still contribute and still feel welcomed.
To be successful, a hybrid conference cannot simply mimic the online conference environment or the onsite conference.  We are restricted by the onsite Toronto timeline but have created something new for 2022. Our model for CogSci 2022 was designed to address key issues, ensuring that the conference will be a valuable and enriching experience for both in-person and online attendees. This means:
* All keynotes, talks, and symposia will be streamed live. We have paid for the premium A/V setup and personnel to ensure that the streaming is of high quality and interactions between the in-person and online participants is smooth. All sessions will be a combination of in-person and online talks, with genuine integration between the two modes of participation.
* Online posters will be replaced by five-minute streamed "flash talks" that are grouped thematically, with extra time for discussion. These can be attended by anybody and this setup ensures that everyone will have an audience who are interested in the topic.  People presenting posters in person will have the option of joining a flash talk session or participating in a traditional poster session.
* Except for the blocks devoted to keynotes, all session blocks will contain a mix of talks, traditional posters, and flash talks. This ensures that people in all time zones will have at least a few sessions where they can stream in live, thus resulting in access to more talks and more posters.  Talks, flash talks, and posters will be thematically grouped as much as possible. This also has benefits for the in-person attendees since the poster room will be far less crowded with a more reasonable number of posters to review. At all times of the day people can have a choice about whether to watch a talk or see posters.
*We will provide on-demand access following the conference for all content. Participants will be able to view recordings of keynotes, talks, symposia, and the virtual poster flash talks. We will also have PDFs of the posters made available.
We are very excited about these changes! Some of them are experimental, but we view them as a necessary experiment: creating a good hybrid experience is only going to get more important as years go by, and the only way to learn how to do that is to try different things. Our changes reflect the best options we could think of given the monetary and temporal constraints we have, and we think it's going to be awesome.
Join us online!  Registered, fully paid delegates of CogSci 2022 will receive an email from the virtual platform, Underline, to verify the account.  The email will be sent to the email used during registration.  Following the verification, delegates can login to the platform at any time to watch livestream sessions, on-demand content and view posters.
Please click on the links below to review the various versions of the program and/or proceedings documents.  Additional documents will be added over the coming weeks in advance of the conference.
On-Demand Program
The virtual platform, Underline, provides the opportunity to engage with the 2022 CogSci program content as you wish.  You can attend all sessions livestreamed at the scheduled time with full hybrid engagement, however, if you cannot attend a session, within 24hrs, the recording of that session will be available to watch at your own pace. All presentations and virtual posters will be made available for up to two years post conference for all CogSci 2022 registered attendees.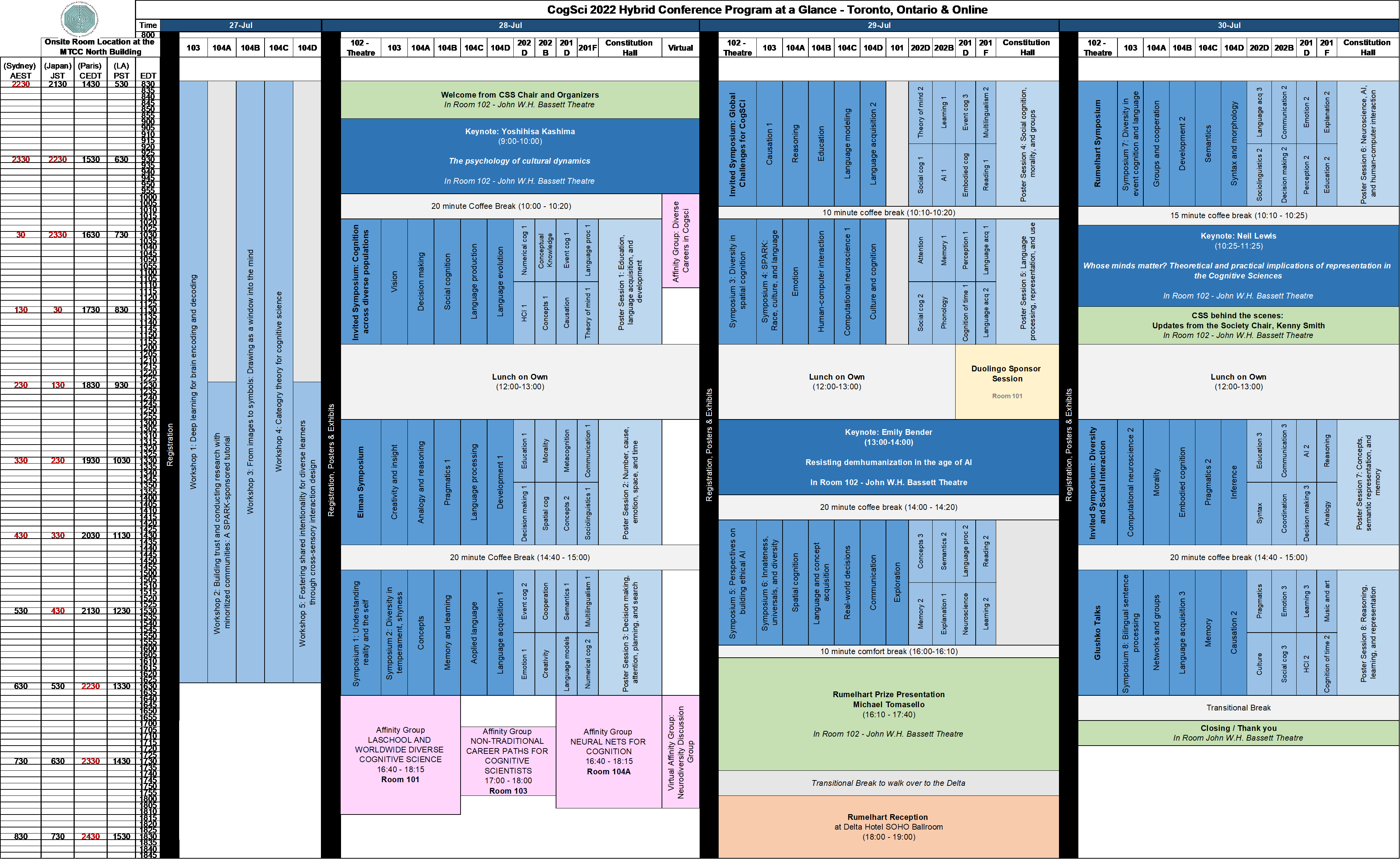 The Cognitive Science Society is pleased to announce the establishment of the CogSci Grove which aims to mobilise cognitive scientists to offset carbon emissions associated with their professional activities.