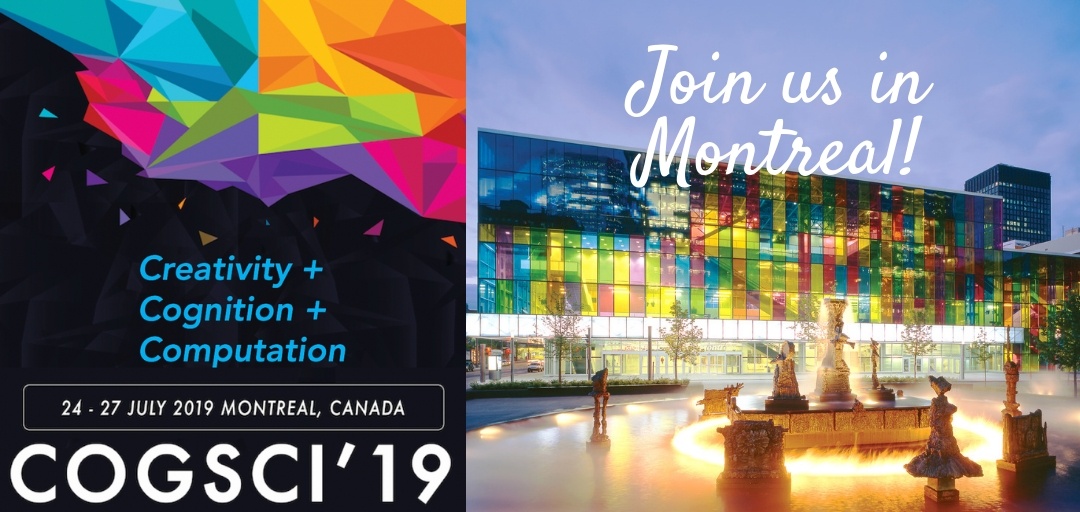 Cogsci'19 artwork by Sungeun An
CogSci 2019
The 41st Annual Meeting of the Cognitive Science Society will be held in Montreal, Canada at the Palais des Congrès de Montréal on Wednesday July 24th – Saturday July 27th, 2019 (Wednesday, July 24th is the Tutorials and Workshops day).
This year's conference highlights research on the theme, Creativity + Cognition + Computation, in addition to the full breadth and diversity of research topics offered by the society's membership.
We encourage researchers from around the world to submit their best work in Cognitive Science to CogSci 2019, and to join us for discussions of the latest theories and results from the world's best cognitive science researchers.
Awards Committee
Chair: Prof. Andrea Patalano, Wesleyan University, USA
Co-Chairs:
Prof. Steve Sloman, Brown University, USA
Prof. Wendy Newstetter, Georgia Tech, USA
Prof. Michael Mozer, Univ. of Colorado, USA
Prof. Richard Lewis, Univ. of Michigan, USA
Communications Committee
Chair: Prof. Rick Dale, Univ. of California – Los Angeles, USA
Co-Chair: Rui Meng, Univ. of Wisconsin, USA
Graduate Organizers Committee
Chair: Matthew Setzler, Indiana University, USA
Co-Chair: Peter Felsman, Univ. of Michigan, USA
Local CogSci Community Committee
Chair: Prof. Isabelle Soulieres, Université du Québec à Montréal, Canada
Co-Chair:  Prof. Thomas Shultz, McGill University, Canada
Member Abstracts Committee
Chair: Prof. Maithilee Kunda, Vanderbilt University, USA
Co-Chairs:
Dr. Ana-Maria Olteteanu, Freie Universitat Berlin, Germany
Dr. Michael Shafto, Cognitive Science Associates
Prof. Sebastien Hélie, Purdue University, USA
Member Publication-Based Talks committee
Chair: Prof. Jim Davies, Carleton University, Canada
Co-Chair: Prof. Evangelia Chrysikou, Drexel University, USA
Program Committee
Co-Chairs:
Prof. Ashok Goel, Georgia Institute of Technology, USA
Prof. Colleen Seifert, University of Michigan, Ann Arbor, USA
Prof. Christian Freksa, University of Bremen, Germany
Symposia Committee
Chair: Prof. Nora Newcombe, Temple University, USA
Co-Chair: Prof. Garrison Cottrell, Univ. of California – San Diego, USA
Tutorials and Workshops Committee
Chair: 
Dr. Thomas Barkowsky, University of Bremen, Germany
Co-Chairs:
Prof. Travis Seymour, Univ. of California – Santa Cruz, USA
Prof. Elizabeth Bonawitz, Rutgers University – Newark, USA
Dr. Swaroop Vattam, MIT Lincoln Laboratory, USA
Sponsorship Committee
Chair: Prof. Keith McGreggor, GaTech, USA
Important Dates
| | |
| --- | --- |
| Call for Submissions: | Closed |
| Hotel reservations open: | Now Open |
| Submissions closed: | February 1, 2019 |
| Member abstract submissions closed: | February 1, 2019 |
| Notifications of decision sent: | April 12, 2019 |
| Registration open: | April 12, 2019 |
| Accepted submissions due in final form: | May 10, 2019 |
| Presenting author registration deadline: | May 19, 2019 |
| Early Registration deadline: | May 19, 2019 |
| Regular Registration deadline: | June 28, 2019 |
| Conference: | July 24 – 27, 2019 |
Stay Connected
Sign up for our newsletter and stay up to date with conference news & alerts!
Sponsors & Exhibitors
Please visit our partners page to find out how you can become a sponsor or exhibitor at the world's premiere annual conference for the interdisciplinary study of cognition.
Code of Conduct
The Cognitive Science Society (CSS) annually holds a professional conference dedicated to dissemination of research results and exchange of ideas in cognitive science, open to all. CSS is dedicated to providing a harassment-free conference experience for everyone. Our Society is dedicated to diversity, equity, inclusion, and the free expression of ideas. We seek to provide an environment in which diverse participants may learn, network, and enjoy the company of colleagues. We recognize a shared responsibility to create and sustain that environment for the benefit of all. Therefore, all forms of harassment are prohibited. Specific prohibited behaviors include but are not limited to the following:
Harassment or intimidation based on gender, gender identity, gender expression, age, sexual orientation, disability, appearance, body size, race, ethnicity, political orientation and views, religion (or lack thereof), or other group status
Unwelcome behavior or verbal comments related to the above categories that create a hostile conference environment (e.g., sexist or racist jokes)
Sexual harassment or intimidation, including unwelcome sexual attention
Unwelcome physical contact
Harassing photography or recording
Stalking or following (physical or virtual)
Sustained disruption or threatening of presenters
Advocating for, or encouraging, any of the above behavior
We ask that speakers carefully consider and maintain awareness of the variety of perceptions that conference participants may experience from language, images, and sound. We also ask that all conference participants make every effort to frame discussions as openly and inclusively as possible.
This code of conduct is not intended to limit the terms of open and respectful scientific inquiry or discussion. Critical examination, debate, and robust disagreement regarding beliefs and viewpoints, germane to the topic of discussion and presented respectfully do not, in themselves, constitute harassment. Similarly, the use of imagery, language, or sound that is sexual or that pertains to group status and that is germane to the topic of discussion and presented respectfully does not, in itself constitute harassment.
We expect participants to follow this code of conduct at all event venues and event-related social activities.
Enforcement
Participants asked to stop any harassing behavior are expected to comply immediately. If a participant engages in harassing behaviour, event organizers retain the right to take any actions to keep the event a welcoming environment for all participants. These actions may range from simply warning the offender to expulsion from the conference, with no refund of registration or other attendance-related costs.
Reporting
If you are being harassed, notice that someone else is being harassed, or have any other concerns, please report it to us immediately. We value your attendance, and will make every effort to ensure that you feel safe and welcome for the full duration of the conference.
You can make a report by directly emailing your report to . Any reports made by form or by email will be accessible by the Governing-Board authorized Code of Conduct implementation team, which is comprised of Adele Goldberg, Roger Levy, Asifa Majid, Nora Newcombe and Kenny Smith. You may also make a report in person to a member of this team.
program committee
Prof. Ashok Goel, Georgia Institute of Technology
Prof. Colleen Seifert, University of Michigan, Ann Arbor
Prof. Christian Freksa, University of Bremen
Email:
Conference Logistics
Lily Chang, International Conference Services
Email:
sponsor & exhibitor sales
Jude Ross, Podium Conference Services
Email: